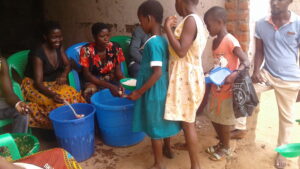 Maria Helms joined Love in Action in the early days of its birth. She is a true ambassador in the business of volunteering.  She has seen volunteers come and go, she has taught so many kids in the ministry and today some of these kids are enjoying their last days in Secondary School and some are still in her grasp enjoying her service.
Maria is 30 years old, married and a mother of 2 girls. Despite our volunteer policy of considering those who have finished Secondary School for volunteering, she is an exceptional one for she holds a Junior Certificate of Education (J.C.E).  What really got Maria into where she is it's her determination and outstanding results seen through the kids she teaches and mentors both at the center and the community. She is so enthusiastic and knows that her job isn't just a service to the kids and the organization, but she knows it's where the Lord has intended for her spiritual, mental and social growth.
One of the LIAM objective run in line with helping youth as they await their transformation into adulthood. We have included volunteership into Youth empowerment as we know how hard life is mostly to those who are done with Secondary School and have no access to College education due to financial problems here in Salima. So far we have about 8 youth who are in college due to our spiritual, moral and financial support and 9 are (teachers) civil servants working in various public schools. The story about Maria is different that is why she is a long serving member and her life alone is an impact to the kids and fellow volunteers.
Being married with two children while working for the ministry as an office assistant and volunteer teacher is what poses as a big challenge for her to join those who are still doing their studies. As to many people's wish, Maria can't go back to school as her responsibilities as a mother has taken a tow on her.
To have such kind of souls in an organization/ministry is a blessing. She lives in the community; she has the advantage of knowing the kids and their families to the extent of sparing some of her free time interacting with the parents and guardians. Maria got so much she would like to fulfill as a person. With the work she does, it's unlikely that she afford to give her family the basic needs a person requires. Like most volunteers, she depends on the little stipend that she receives when funds are available. Maybe you would like to make an impact in helping out our volunteers, reach out to us through the details given if you may follow through the donate button. And you can as well encourage them with words/quotes in our comment box; they will gladly be motivated with them.